Writer: Mia G
Summertime is here and there's even more pressure to get in shape and jump into that perfect suit. It's the season of pool parties, beach events, wet concerts and everyone wants to look good in the perfect swimsuit for that special event. Here is a guide to finding the perfect suit for your body type.
FOR EVERY BODY TYPE
Imagine It's late in the afternoon and your best friend calls you up to accompany her at one of the biggest pool parties on the island.
You know that the local elites and fashionistas will be present so it's time to impress with the perfect poolside ensemble.
The stores will soon be closing, you don't have much time to find the right suit but you can find something that works for every body type.
A simple one piece suit works for almost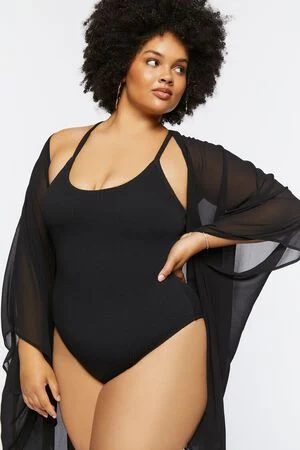 every figure. Darker colors are usually more slimming but a one piece suit can cover the troubling areas, make you feel secured and tucked in while also allowing you to feel confident and sexy.
For a more upscale gathering, you would want to heighten this look with a gorgeous, cascading swimsuit cover up with kitten heel sandals.
Floor length garments make more of an impression if you want to stand out in the crowd.  This is more of an upscale and more formal look as opposed to a short cover up. 
Long, draping clothing can also bring out the diva in you.
BEST SUIT FOR A PEAR SHAPED FIGURE
If you have a pear shaped body type, this means that you are heavier at the bottom with curvy hips and thighs and are smaller or more narrow at the top.  
Your perfect suit will balance your proportions by covering or concealing your bottom half while enhancing your upper body. You can do this with a bikini or one piece with ruffles around the shoulders.
High-waisted and skirted suits help to conceal your more curvy areas.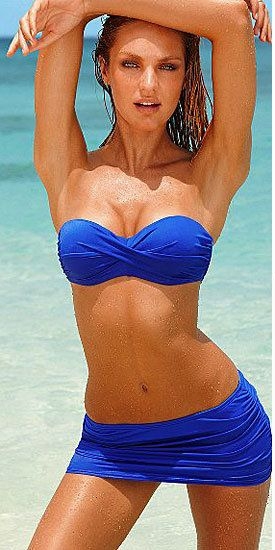 The skirt would fall below the upper thighs, concealing your curves and balancing your body by drawing more attention to the top.
Direct the eyes to the top half of your body with embellishments, ruching, ruffles and plunging necklines.
Monokinis, skirted and high waisted bottoms with or without a high cut leg are the perfect go to for your pear shaped figure.
BEST SUITS FOR A SMALL BUST
You have a smaller top area (A or B cup) and of course a small chest needs less support.
With a smaller bust, you can move toward more revealing pieces, string bikinis, ruffle or triangle tops with embellishments, like bows, and bold prints also help to create the illusion of curves. 
Padded bra tops, halters or anything that creates a cleavage can enhance the boobs, making them look a little larger.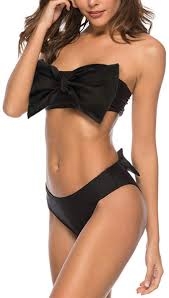 Deep, plunging necklines and tiny tops are also suitable for your body type.
A slender figure can carry many styles so your biggest concern may be the perfect color.
You can dare to wear more risque' cuts/styles like micro bikinis or a sexy, strappy one piece with strategic cut outs.
BEST SUITS FOR A LARGE BUST
A large bust means that you are heavier in the top area and require more support. 
This does not mean however, that your bottom half is also curvy so choose a suit that also supports or enhances your bottom half.
The trick is to draw less attention to the bust.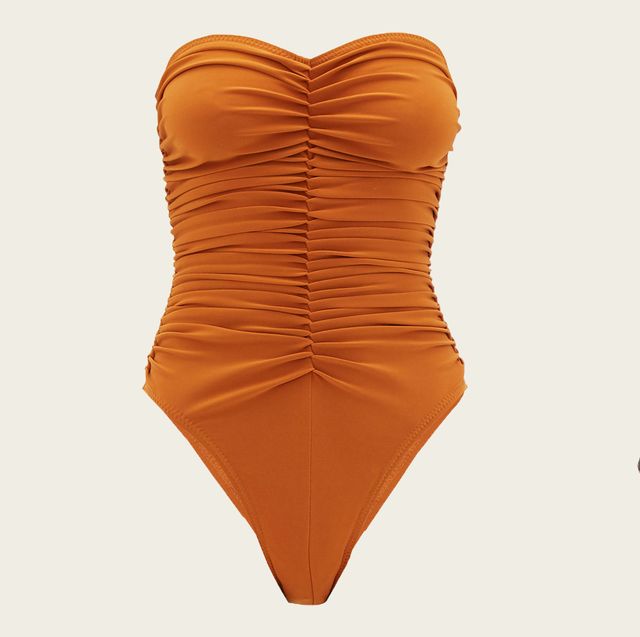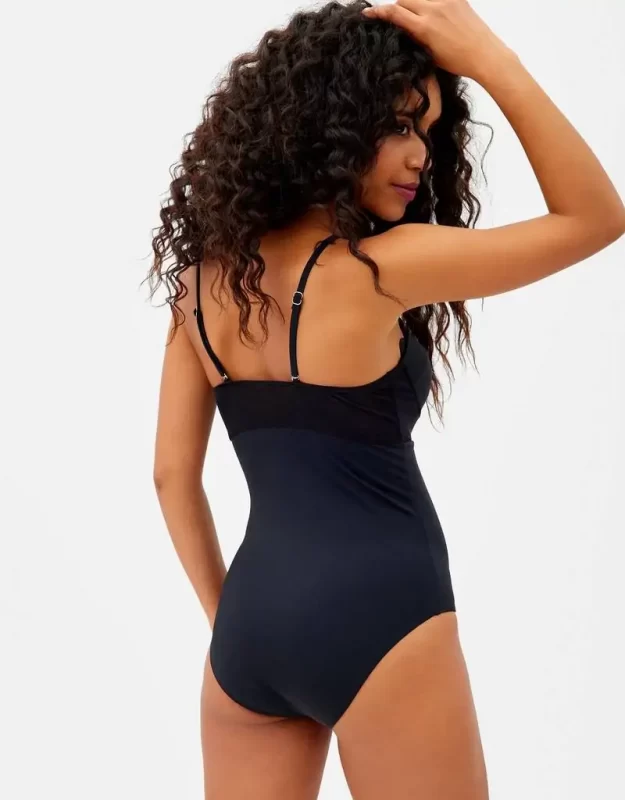 Being heavy chested also means that you need NO help with cleavage and require a D-Cup or larger.
You want to focus on lift and support of the bust area.
You can accomplish this with underwire bra tops, larger/adjustable straps, high back swimsuits, or anything that supports and brings a little concealment to your chest, drawing more attention to other parts of your body. 
You want to avoid ruffles, bold print tops, Scoop necks and spaghetti straps may also provide little support. 
Avoid those styles that may draw too much attention to the bust, especially if you prefer a more conservative look.
Micro bikinis definitely do not provide support for the upper region but can be paired with a more supportive top if you enjoy teasing the boys and showing a little extra skin.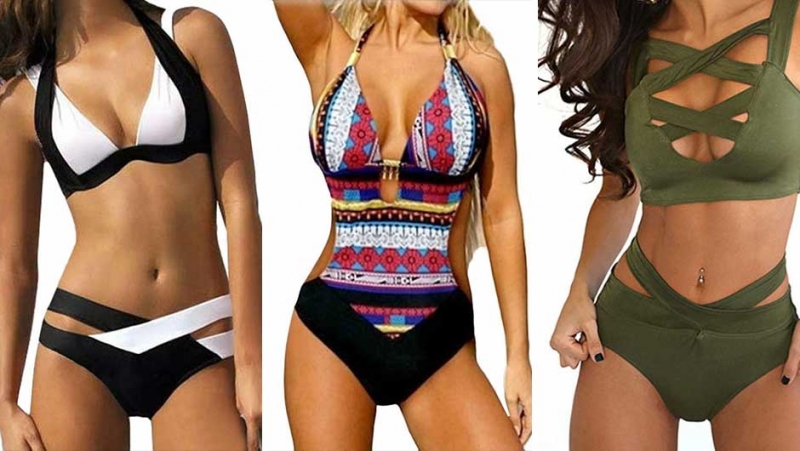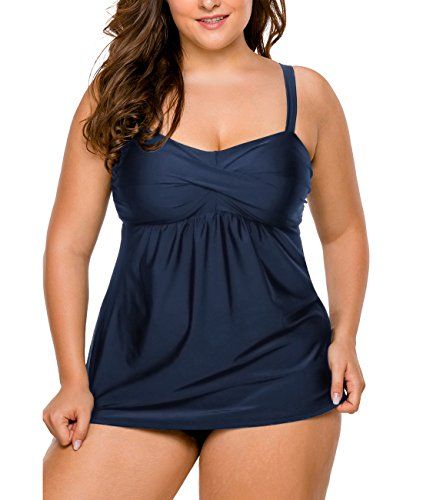 BEST SUITS FOR A CURVY FIGURE
A curvy figure means that you are curvy all over with full hips, thighs, bust and buns.  
To accentuate your curves, a supportive top paired with high waisted bottoms would work well to support your figure.
Choose suits that conceal your problem areas and elongate your body and legs – like high cut swimsuit bottoms – making you look taller and slimmer. 
One piece swimsuits with cutouts, monokinis with the right support and coverage can also be flattering to your physique.   
Be sure to avoid string bikinis with large strings. Larger ties can draw more attention to wider areas of your body.
Vertical stripes can make you look taller while, according to scientists, horizontal stripes make you look slimmer since they seem to fill more space than vertical stripes.
Also remember that thinner stripes are more slimming than thick ones and don't be afraid to try a little color blocking.
Halter tops are a great go to as they create a vertical line from your bust to your collar bone, drawing the eyes toward the neckline.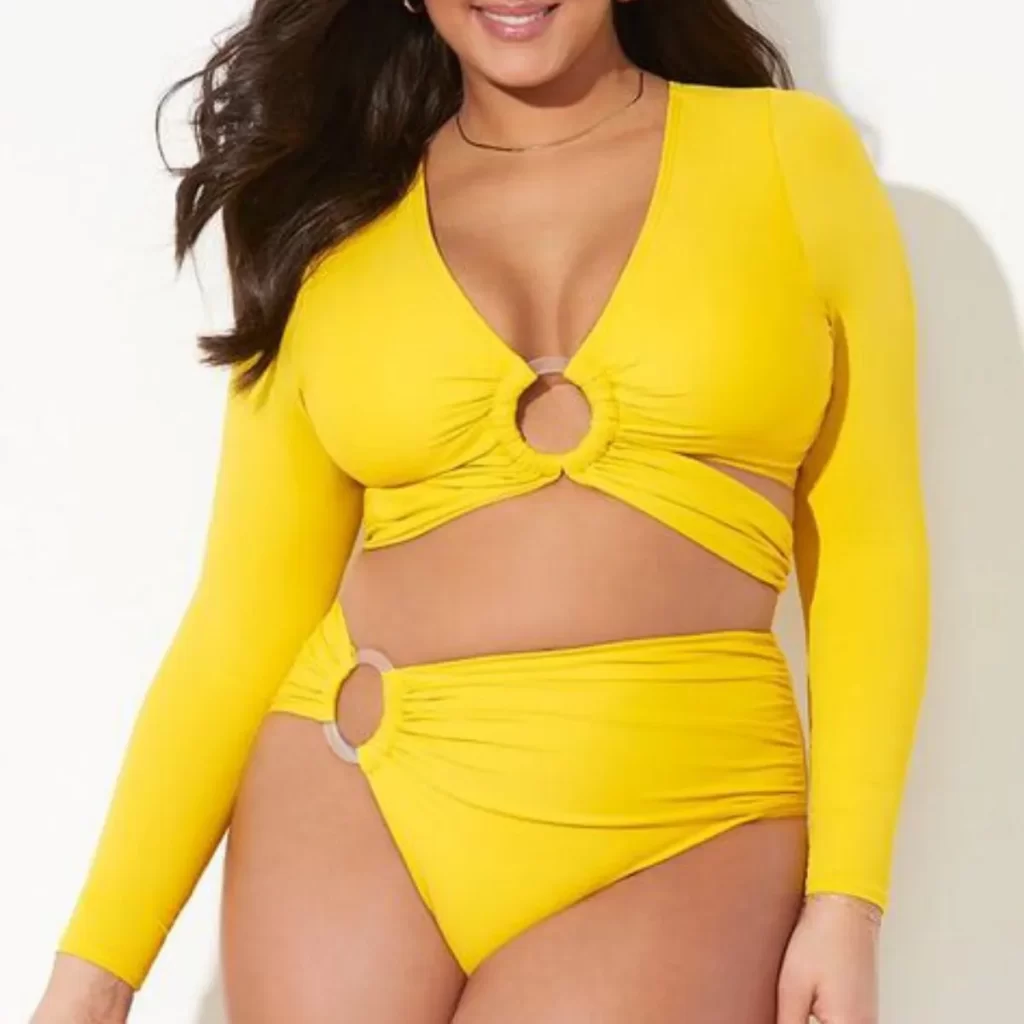 BEST SUITS FOR AN ATHLETIC FIGURE
An athletic figure means that you have a more slender physique, fewer curves and are very fit.
You want to enhance your curves with patterns, bold prints, and less coverage. Anything that makes your figure appear more shapely.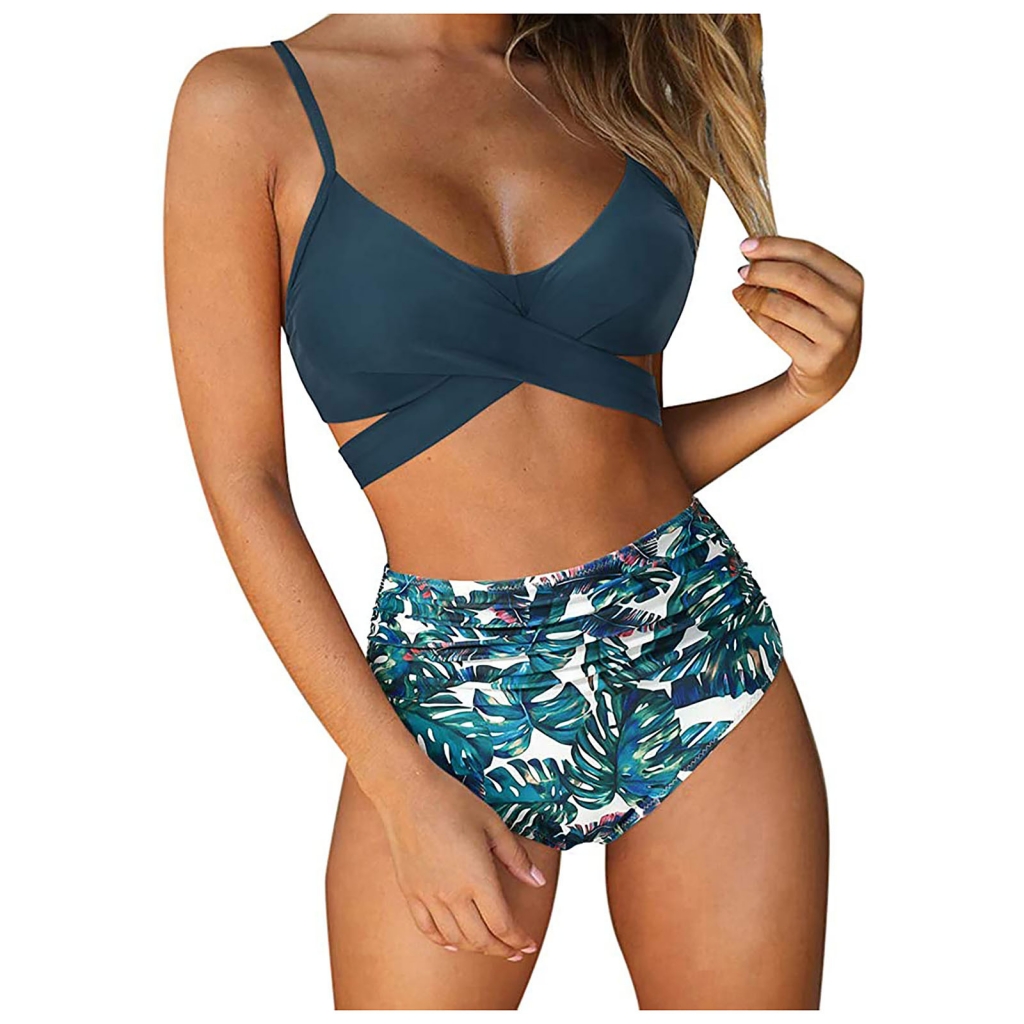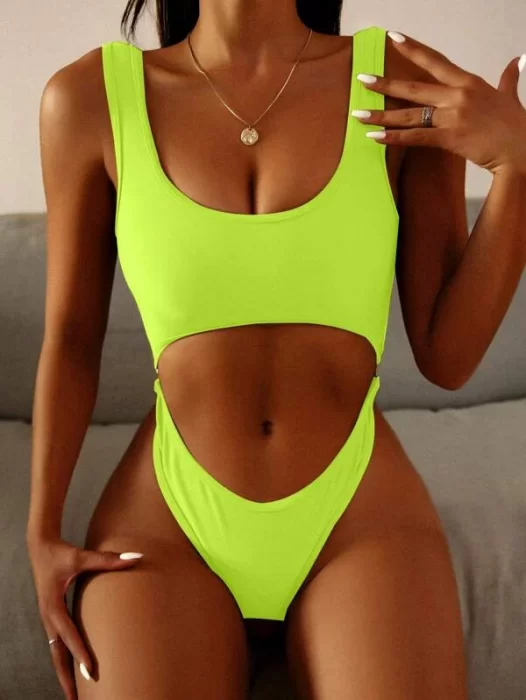 Similar to slimmer figures, you can carry many styles although athletes tend to have a desire for more supportive wear.
Monokinis and one piece suits, with cut-outs, create fabulous curves.
Bold prints, razorbacks, and embellished tops can also create the illusion of a curvier figure.
Brazilian, tie-side, and scrunch bottoms create definition, making the buttocks look a little fuller and curvier.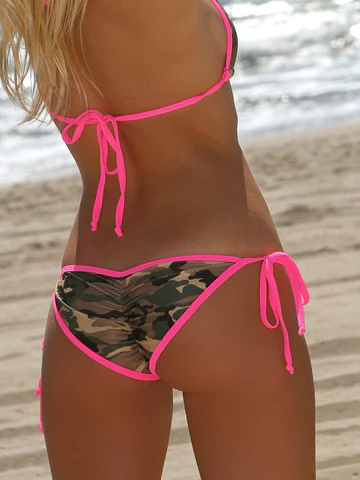 A high cut leg is also a good fit for your body type.
This style is sporty but very sexy, accentuating and elongating your well toned legs.
BEST SWIMSUITS TO CONCEAL THE TUMMY AREA
You carry your weight mostly in your mid-section and have more of an apple shape.
You want to conceal your midsection with styles like high waisted bottoms and tankinis.
Wraps, belted suits, One pieces and swim dresses/skirts can also help to conceal the tummy area. 
Belting can cinch the waistline, making it look smaller and more defined.
Full bottoms are also very flattering, and full suits with a banded middle can also give the appearance of a smaller waistline.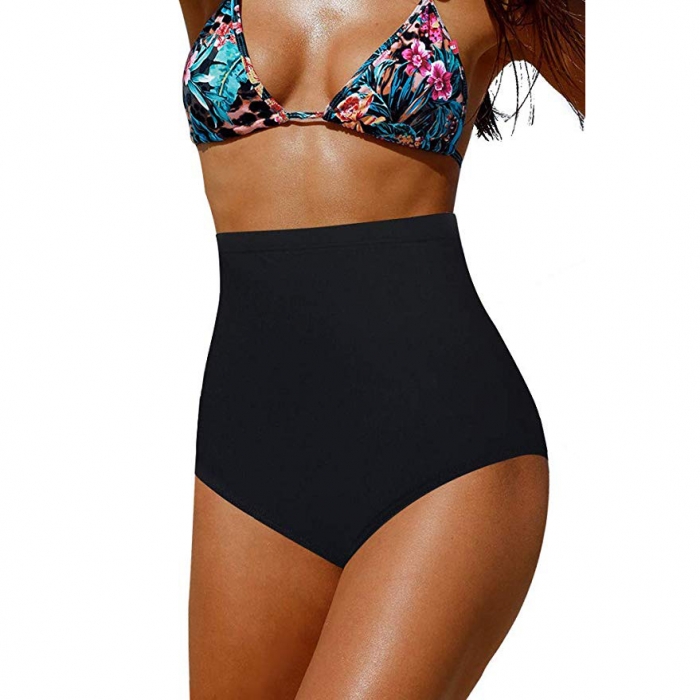 The trick to finding the right suit is to keep trying until you find that one that accentuates your favorite body parts while concealing your problem areas. Large sizes need more support, while slimmer figures may have more choices and less difficulty finding the right fit.
Remember, fashion isn't necessarily what you wear but how you wear it.  Walk with confidence!